Moises Ruíz Pavilion in Almería to host the days 17 Y 18 September forever Games, The most important family and inclusive electronic entertainment event in the province.
Forever Games was born through a collaboration between the specialist video game store Arcade Bits and the Almería and State Association of Parents of Children with Cancer (ARGAR), as the Provincial Council, is the main collaborator of this great event.
Entry with only cost 2 euros, It will go entirely to finance one of the main projects of the ARGAR Almería association, which consists of gamification of usage areas for its users. The event will be held on 17 Y 18 A large space to avoid the crowds from 10:00 to 14:00 and from 16:00 to 20:00 in September.
Activities
Fun for a Tube: the funniest games aimed at a more "casual" audience. Super Mario Bros, Minecraft, Kirby and many more amazing games.
automobile club: a kids section with speed and driving games as well as the funniest card games. Among them are Forza, Gran Turismo, Mario Kart and others.
fitness center: the most sporty players will take their place here. More accessible games for audiences of all kinds, such as Fifa, Rocket League, NBA 2K and MarioGolf, Mario Tennis or The Olympic Games.
Next generation: participants will only be able to test new consoles. PlayStation 5 and Xbox Series X will show us the future.
Eastern Fury: the most oriental atmosphere with the most otaku games. We will have Kimetsu no Yaiba, Oliver and Benji, My Hero Academia and a very Japanese team.
We are Heroes: Spider-Man, Guardians of the Galaxy, Batman, The Avengers, and a long etc. to show that the heroes really exist.
Dance Center: Music lovers will have the opportunity to show what they can do with the great games Just Dance and Fuser here.
retro zone: The oldest video game will be located here with the most famous consoles and arcades of the 80's and 90's and will have a special exhibit already used on XpoBit and XpoPixel as many people want to enjoy it.
Shopping area: participants will be able to do the most geek shopping with the most Geek stands. It will also be the place for cosplayers and local guests to set up their booths alongside the 3D printing space, an activity that has grown exponentially in recent years.
virtual world: the most amazing and surprising experiences will come together again in FOREVER GAMES, but this time more controlled and safer than ever before. A professional team will ensure that this area is contact-free and properly cleaned after each use.
Play ground: The most up-to-date competitions will meet in the most ostentatious place of these facilities. Fortnite and Fifa are expected to be selected, but there are a few candidates to occupy that privileged spot. Entries will be made online for a smoother run, but there will also be the option to play at an authorized location on the same day.
arts district: It will be tried to give opportunities to young artists and entrepreneurs in the municipality by creating stands where tradesmen and illustrators will exhibit their works free of charge and free of charge.
Exhibitions and exhibits:
Challenge the pro: Young promises and consolidated players from the province will be willing to play some games with attendees who want to challenge the best.
Horizon 2: Space reserved for this new adventure game.
Pokemon Arceus: Nintendo's bombshell will take its place in FOREVER GAMES.
Spiderman: The Marvel superhero will have a special place at the event.
Summary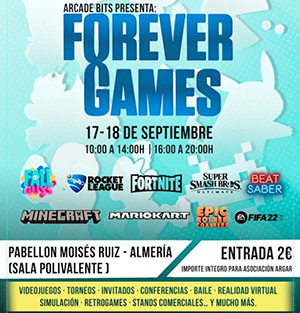 Article name
forever games
Definition
On September 17 and 18, the Moises Ruíz Pavilion in Almería will host Forever Games, the most important family and comprehensive electronic entertainment event in the state.
Author
weekly post
Publisher name
weekly
publisher logo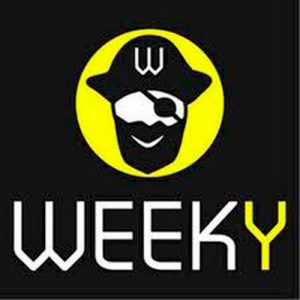 #Games #WEEKLY